Hey fellow cat lovers!

Here at Happy Cat, we love ALL cats. Every last one of them. Your cats. Our cats. Especially black cats. We love cats so much that we just had to open Vancouver's only all-cat supply store. At Happy Cat Feline Essentials, we have everything you need for the happiest, healthiest cat possible.

We source high quality supplies to ensure your cats get the best products. Every cat is different which is why we offer a large selection of food, toys, and equipment so that you can find something that your kitty will love.

Happy Cat is proud to stock:
Cat food

Catnip

Harness

Scratching posts

Quirky toys

Complimentary Harness Fittings
Don't know what your cat needs? Just ask one of our team members and they will be happy to assist you!
Come in and visit us!
Our store is located in the heart of Vancouver, and you can't miss us with our colourful exterior! Our friendly staff love to talk about everything cats, have deep product knowledge, and are passionate about answering all your feline questions. We love helping educate cat parents and providing them with all the tools and information they need to have a healthy and happy cat!

Whether you've had cats your whole life or are a new cat parent, our team can help you find all the supplies that your kitty needs.

FAQ
Can I come shop in person?

Yep! You can find us at 4171 Fraser Street, 11am - 7pm everyday.

We appreciate you wearing a mask if you plan to stay awhile, but they are not required! Thank you to our customers for their support in helping keep our people safe.

We have masks available should you require one.
How do I make an order for pick up?

Select pick up at check out, and wait for an email notification telling you your order is ready for pick up! Then pop by the store and tell staff you are picking up an order. Usually just the name on the order is fine, but its also good to have a copy of the email and order no. as well. Pick up orders are usually ready within an hour, but can take up to 24 hours depending on stock location.
And local delivery?

Our local delivery service has become a whole thing, and a much bigger part of our business than we ever imagined because of COVID! It usually runs pretty smoothly and people seem to like it! We are making improvements all the time, and also will be reassessing our schedule in the near future so watch this space if we don't come to you yet.

Find out the details of where we deliver and when on this page.
I don't live in Vancouver. Will you ship to me?

As a small team we have to decide where to focus our efforts, and currently our brick + mortar store and local delivery service keeps us busy enough! That means we don't offer shipping at this time.
Do you have customer parking?

No, unfortunately not.

There is street-parking out front which is usually very busy due to the popularity of Lee's Electronics, but it turns over quickly! Always worth doing a loop to see if you get lucky, may the parking Gods bless you.

If you travel by bicycle our new bike rack makes stopping by even easier on two wheels!
Can I bring my cat to visit?

Generally yes we love it! However we would like all our feline visitors to feel safe and happy – the majority of cats would probably feel more comfortable staying at home. You know your cat! Some cats are naturally more bold and inquisitive and usually do the best browsing.

We reserve the right to recommend that the cat be taken home if stressed by the experience.

Please have your cat on a harness (or in a carrier if you are coming to get a harness!).

We would LOVE to help you fit a harness and advise you on how to have safe outside time with your cat - please book an appointment here.

If you bring your cat in for a harness fitting without an appointment, we may not have the time to see your cat and provide that one-to-one service. Please make an appointment!
Do you have a store cat?

Not at this time! We find that our kitty visitors prefer it that way.
Would you consider carrying "insert cat food brand"?

Maybe! We are always open to hearing what foods work for you and your cats. We carefully select all the foods we carry, taking into consideration many aspects such as: nutritional profile, texture, protein, recipe, price, quality of ingredients, ethics of brand, availability, palatability etc. By doing so we aim to maximise the variety we offer within our limited space. As such sometimes we can special order brands and products that we don't hold in stock just for you! If you would like to enquire about a particular product please send us a message.
You don't carry the food I usually feed, but I'm looking to change it up. Can you recommend a comparable food?

Sure! We spend a lot of our time helping our customers find a food that works for both their cat and them. Feel free to come speak to us in person, or send us a message! Sometimes it can be hard to reach us on the phone, and these kinds of conversations can be lengthy.
When are you getting "insert product" back in stock?

If an item is out of stock for longer than a couple of weeks, it usually it means there is a backorder on it, or there's a shipping delay, or it has been discontinued or sometimes we just don't know why we can't get it temporarily!

Of course "supply chain issues" have been effecting a lot of the products we stock, although it is slowly improving.

Feel free to send us a message if you'd like an ETA on something in particular.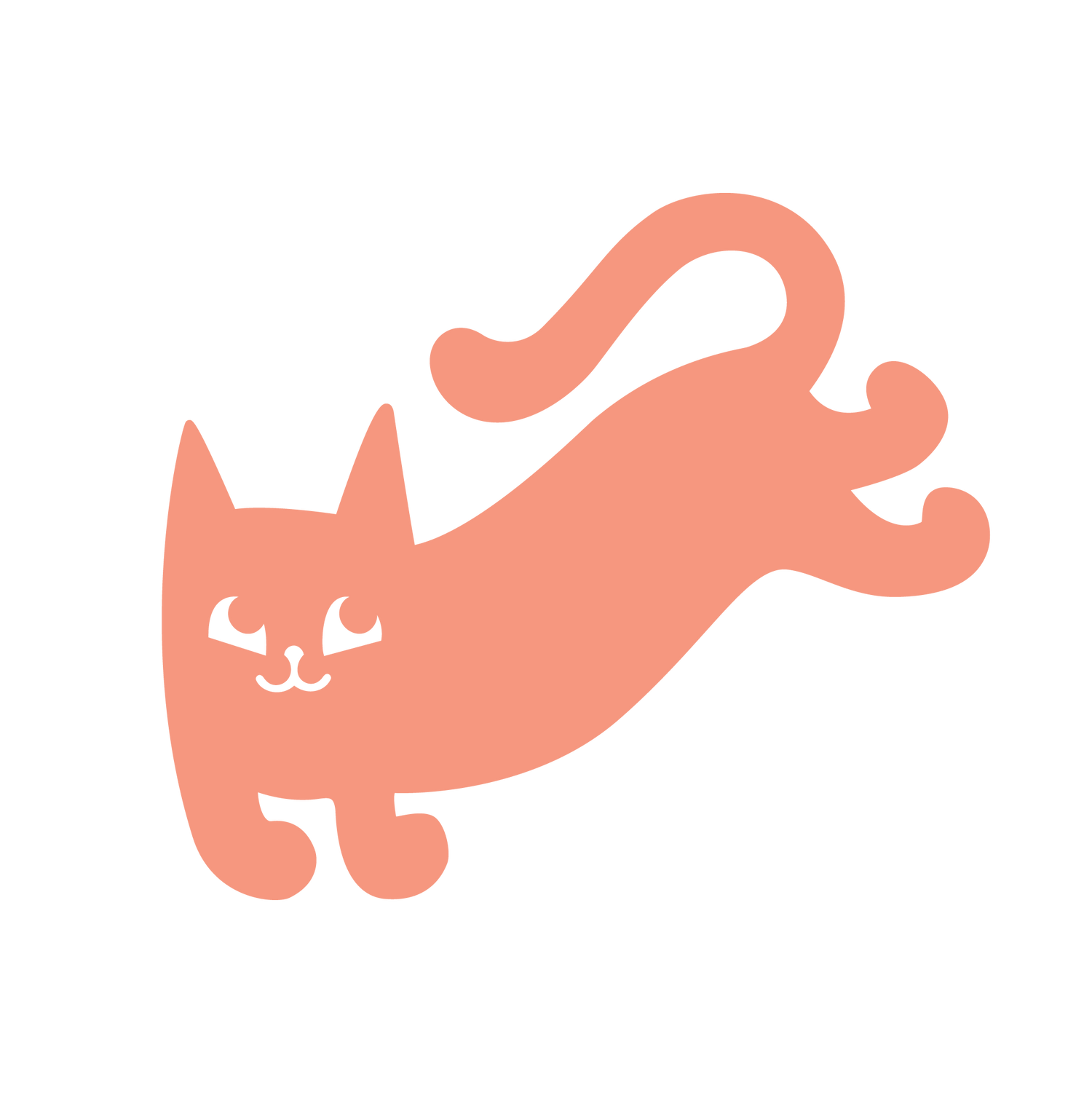 Looking for the perfect Saturday (or as we like to call it - Caturday)?
Take a stroll down Fraser Street and explore some of the amazing local businesses! Stop by Urban Healing to pamper yourself, O! Taho for some amazing Filipino food, and Batard Bakery for some delicious baked goods. Also consider visiting Lee's Electronics for all your cool obscure electronic component parts - you can even build an analog synthesizer or a multi-direction automated flamethrower! And of course, don't forget to come visit us for all of your cat essentials.